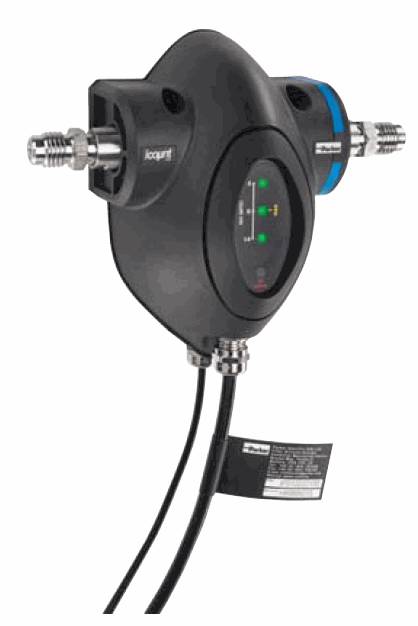 The Incount Particle Detector from Parker represents the most up-to-date technology in solid particle detection. The design dynamics, attention to detail, and small size of the permanently mounted, on-line particle detector brings a truly innovative product to all industry. The laser based, leading-edge technology is a cost effective market solution to fluid management and contamination control.
Features and benefits of the Icount PD include:
Independent monitoring of system contamination trends.
Early warning LED or digital display indicators for Low, Medium and High contamination levels.
Moisture %RH LED indicator (optional).
Cost effective solution in prolonging fluid life and reducing machine downtime.
Visual indicators with power and alarm output warnings.
Continuous performance for dependable analysis.
Hydraulic, phosphate ester & fuel fluid compatible construction.
Self diagnostic software.

Fully

PC/PLC integration technology such as: RS232 and 0-5 Volt, 4-20mA.
Digital LED display update time
Every second
4-20mA output signal
Continuous
Principle of operation
Laser diode optical detection of actual particulates
Performance
+/- 1 ISO Code (dependant on stability of fl ow)
Reproducibility / Repeatability
Better than 1 ISO Code
Power requirement
Regulated 9 to 40Vdc
Maximum current draw
150mA
Hydraulic connection
M16 x 2 hydraulic test points (5/8" BSF for aggressive version
Flow range through the device
40 to 140 ml/min (optimum fl ow = 60ml/min)
Inline Sensors
Size 1 = 24 to 100 l/min - (optimum fl ow = 70 l/min)
Size 2 = 170 to 380 l/min - (optimum fl ow = 250 l/min)
Required differential pressure
5.8 psi (0.4 bar) minimum
Viscosity range
10 to 500 cSt
Temperature
Operating environment: -4°F to +140°F (-20°C to +60°C)
Storage: -40°F to +176°F (-40°C to +80°C)
Operating fluid: +32°F to +185°F (0°C to +85°C)
Working pressure
30 to 6,000 PSI (2 to 420 bar)
Moisture sensor calibration
±5% RH (over compensated temperature range of +10°C to +80°C)
Operating humidity range
5% RH to 100% RH
Certification
IP66 rated
EMC/RFI – EN61000-6-2:2001
EN61000-6-3:2001
Materials
User friendly construction
Stainless Steel hydraulic block
Viton seals
Dimensions
7.2" x 6.1" x 3.4" (182mm x 155mm x 86mm)
Weight
2.9 lbs. (1.3 kg)