In Line Quality Measurement
In line real-time measurement of product quality is becoming more important. Two key factors that can be measured in line are water content in ppm and particle size distribution according to ISO 4406:1999. Njord offers both measurement systems that can easily be integrated with our range of automated filtration systems and represent a remarkable cost effective solution to fluid management and contamination control.
- the Zelentech Water in Oil meter delivers continuous, real ime accurate monitoring of the ppm concentrati.on of ALL water (free, dissolved as well as emulsified).
- the Parker i-Count combined with Njord flow control offers laser based leading edge technology.

Water contamination in fuels and oil based fluids can cause numerous problems such as loss of revenue, additive depletion, oil oxidation, corrosion, reduced lubricating film thickness, accelerated component wear rates, microbiological growth, reduction of dielectric strength and loss of power.
The Zelen Tech Water in Oil (WIO) monitor can help prevent such problems associated with water contamination in oil based fluid systems.
| | |
| --- | --- |
| Measurement ranges | Low Range 0-25% models as well as full cut 0-100%. |
| Ports | Screwed NPT, BSP threads or ANSI, JIS or DIN flanged |
| Pressure rating | 16 bar |
| Construction material | 316 Stainless Steel |
| Minimum flow | 0,15 m/s |
| Interface | 4-20 mA output , RS232 command |
| Power requirements | Loop power 12/24 Volts DC |
| Housing | CE marked IP66 , ATEX optional |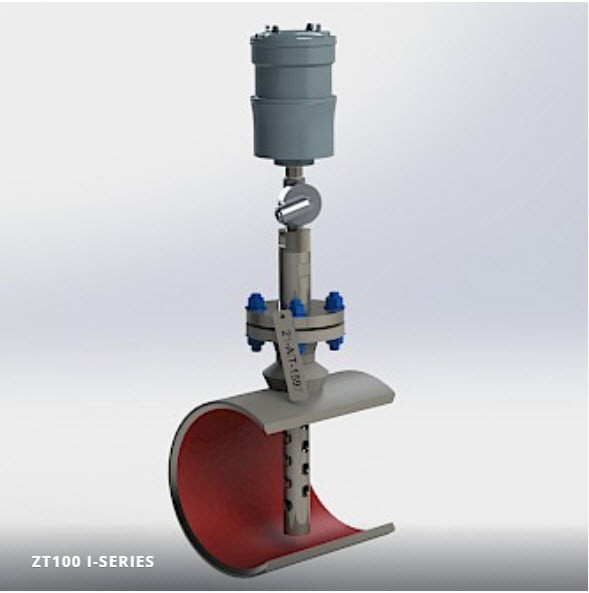 The ZT100 Water Cut Monitor is desidned to provide reliable water content readings in any hydrocarbon, and primarily aimed at Crude Oil applications. The ZT100 features stable temperature compensated readings cou[led with a unique flexibility when it comes to installation.
The ZT100 can be successfully installed as full bore units up to 48 inch, or alternatively in bypass configurations.
They can be supplied with built in or separate Static Mixers to enable a proper representative stream through the sensor.
Sensitivity

0,01%

Repeatability

0,1%

Temperature rating

150°C (300°F) standard

Ports

From 1 to 48 inch

Output

4-20 mA

Interface

HART

Power requirements

Loop power 12/24 Volts DC

Housing

CE marked IP66 , Class 1, Division 1 through certified explosion proof enclosure utilizing separate instrument and connection chambers.

ATEX Intrinsic Safe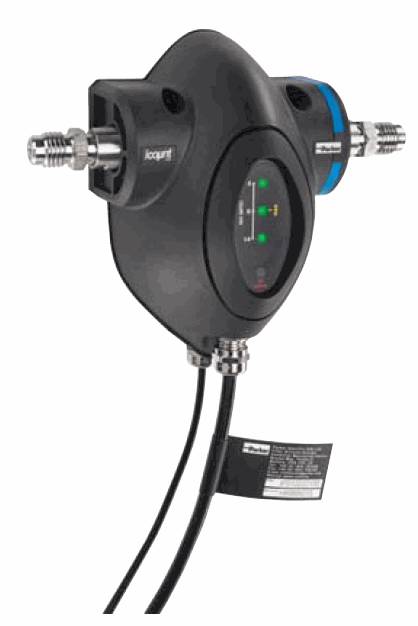 The Incount Particle Detector from Parker represents the most up-to-date technology in solid particle detection. The design dynamics, attention to detail, and small size of the permanently mounted, on-line particle detector brings a truly innovative product to all industry. The laser based, leading-edge technology is a cost effective market solution to fluid management and contamination control.
Features and benefits of the Icount PD include:
Independent monitoring of system contamination trends.
Early warning LED or digital display indicators for Low, Medium and High contamination levels.
Moisture %RH LED indicator (optional).
Cost effective solution in prolonging fluid life and reducing machine downtime.
Visual indicators with power and alarm output warnings.
Continuous performance for dependable analysis.
Hydraulic, phosphate ester & fuel fluid compatible construction.
Self diagnostic software.

Fully

PC/PLC integration technology such as: RS232 and 0-5 Volt, 4-20mA.
Digital LED display update time
Every second
4-20mA output signal
Continuous
Principle of operation
Laser diode optical detection of actual particulates
Performance
+/- 1 ISO Code (dependant on stability of fl ow)
Reproducibility / Repeatability
Better than 1 ISO Code
Power requirement
Regulated 9 to 40Vdc
Maximum current draw
150mA
Hydraulic connection
M16 x 2 hydraulic test points (5/8" BSF for aggressive version
Flow range through the device
40 to 140 ml/min (optimum fl ow = 60ml/min)
Inline Sensors
Size 1 = 24 to 100 l/min - (optimum fl ow = 70 l/min)
Size 2 = 170 to 380 l/min - (optimum fl ow = 250 l/min)
Required differential pressure
5.8 psi (0.4 bar) minimum
Viscosity range
10 to 500 cSt
Temperature
Operating environment: -4°F to +140°F (-20°C to +60°C)
Storage: -40°F to +176°F (-40°C to +80°C)
Operating fluid: +32°F to +185°F (0°C to +85°C)
Working pressure
30 to 6,000 PSI (2 to 420 bar)
Moisture sensor calibration
±5% RH (over compensated temperature range of +10°C to +80°C)
Operating humidity range
5% RH to 100% RH
Certification
IP66 rated
EMC/RFI – EN61000-6-2:2001
EN61000-6-3:2001
Materials
User friendly construction
Stainless Steel hydraulic block
Viton seals
Dimensions
7.2" x 6.1" x 3.4" (182mm x 155mm x 86mm)
Weight
2.9 lbs. (1.3 kg)