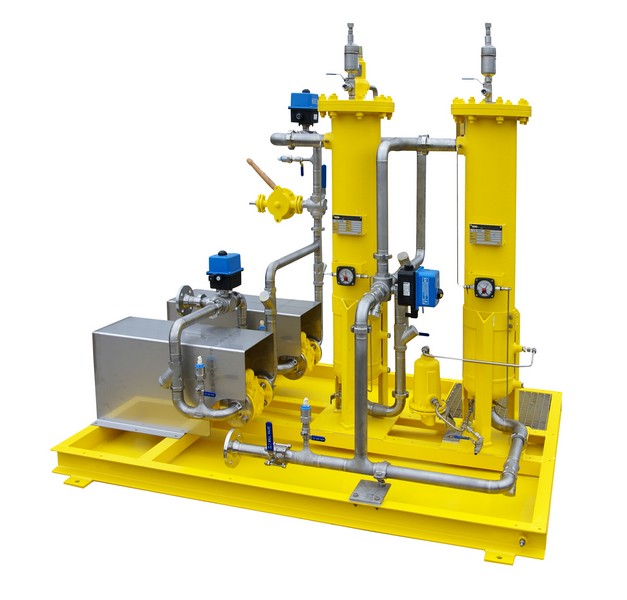 Njord designs and produces high volume Filtration Skids for mobile and fixed installation. The systems can be equipped with a complete fuel management system, controlling bulk and day tanks as well as the filtration system itself.
For example Fuel Forwarding Skids are used to provide gas turbines with clean fuel for start-up, emergency operation or even regular operation. Piping is generally stainless steel 316L and welded.
Fuel cleanliness requirements are part of system's design as are environmental conditions. Commissioning services can be provided upon request.
The systems can be built to spec and can include:
Flow rates from 25 to 19.000 lpm
Simplex or Duplex Fuel pumps
Simplex or Duplex Filtration / Separation
ASME Section VIII Div. 1 filter vessels
ASME IX or EN-287 welding specs
0,5 – 25 micron filtration
Design pressure 1 – 10 bar
Environmental temperatures -40 to +60ºC
Vacuum, pressure, water sensors / switches
Stainless Steel Plumbing
Pressure Safety Valve
Vortex Flow Meters
In-line laser particle size and ppm water measurement
Automated Water Drain
Heat Tracing & Cladding
PLC Controller
Modbus, TCP/IP, LAN and Internet connectivity
Remote alarm monitoring
Dye and radiographic weld inspection
CE, UL, NEMA, ATEX, PED, AD 2000, EN 13445, CU TR, TÜV Approval, LLOYD'S Certificate
Optional in line fuel quality measurement
Inline laser-particle counter
measures particulate contamination in the fuel or oil. The sensor can also be installed independently to act as a filter system sensor or in combination with the total monitoring and management control center.
A loop powered
water in oil sensor
enables fast and reliable drift free inline detection and monitoring of moisture percentage or ppm water in fuel or oil.